Our Mission
High Priestess herbalist-crafted formulas cultivate holistic well-being through the synergy of time-honored medicinal herbs and cannabis, tapping into the body's intrinsic healing and self-regulating endocannabinoid system. Our collection of CBD oil drops, CBD flower herbal smoke blends, CBD tea, and CBD topicals harness nature's abundance and the proven benefits of CBD to promote pleasurable sex, menstrual support, restful sleep, a balanced mood, and pain relief. 
We use only full-spectrum CBD oil and CBD flower and never CBD isolates—because we know that a plant's curative properties work best when all of its compounds are present, just like they are in nature. We honor the wisdom of the plant and the land that provides us with powerful medicines.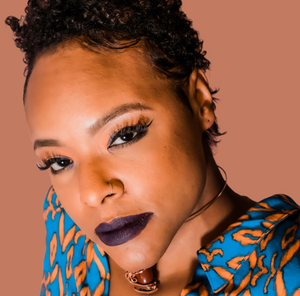 Meet Our Founder
Ashley Jelks
Welcome. 

I'm Ashley R. Jelks, founder of High Priestess. As a Black femme trained in herbalism, I have a lifelong ancestral connection to plants; my grandmother always knew which combinations of herbs to use to ease a stomachache or soothe a sore throat. Healing with plants is something I've been drawn to intuitively. My gift of service has always been making plant medicines for friends and family—I just didn't have a name for it.

The High Priestess revealed herself to me when I was smoking cannabis and pulling tarot cards. I pulled the High Priestess and, studying the symbolism behind the card, recognized her many parallels with the cannabis plant. In tarot, the High Priestess is the embodiment of the divine feminine, a teacher and guide who represents balance, sacred wisdom, self-knowledge and intuitive healing; like cannabis, she is a truth-telling tool that helps us humans access the knowledge to heal our bodies and spirits.

I believe that all humans are entitled to rest, wellness, acceptance, and compassion. As an herbalist, my role is to humbly channel the archetype of the High Priestess to craft high-quality, small-batch herbal wellness tools for supporting the mental, physical, spiritual, and sexual needs of all humans—so that we can all vibe higher.